A Legacy of Pinot Noir
Celebrating 40 years since our inaugural vintage, Schug Winery was born from Walter Schug's passion for Pinot Noir, a journey that led him from Napa Valley's pioneering days at Joseph Phelps Winery to the wind-swept hills of Sonoma's Carneros region. Honoring our 100-year-old heritage and guided by winemaker Johannes Scheid, we continue to craft European-styled wines for a new chapter, inviting you to share our family's legacy in every sip.
Early Life and German Heritage: Walter Schug's connection to winemaking traces back to his family's heritage in Germany's Rheingau region. In the 1920s, his father started producing Pinot Noir from the iconic Assmannshausen Höllenberg vineyard, which was originally planted in the 12th century. This early exposure to vineyards and winemaking played a significant role in shaping Walter's passion for crafting Pinot Noir.
In 1959, after receiving his degree in viticulture and enology from Geisenheim University, Walter left Germany for a winemaking internship in Delano, California. At the end of his internship, his supervisor was so impressed with his skills and dedication, he was offered the position of the retiring assistant winemaker.
Walter at the top of the Assmannshausen Höllenberg vineyard (Rheingau Germany)
After returning to Germany in 1960, Walter proposed to his sweetheart Gertrud (a winemaker's daughter from the Pfalz). She said yes and agreed to emigrate to California with him. In 1961, shortly after their wedding, they emigrated via ship and then drove from New York to California in their VW Bug, with 13 bags, two pairs of skis … and a dream!
Napa Valley Era: Before Walter Schug established his own winery, he made significant contributions to the Napa Valley wine scene. His tenure at E & J Gallo showcased his prowess in grower relations, where he managed a substantial portion of Northern California's vineyards. This experience not only honed his vineyard management skills but also allowed him to identify the best vineyard sites and establish relationships with those growers. These relationships were the key to his success in his next winemaking role.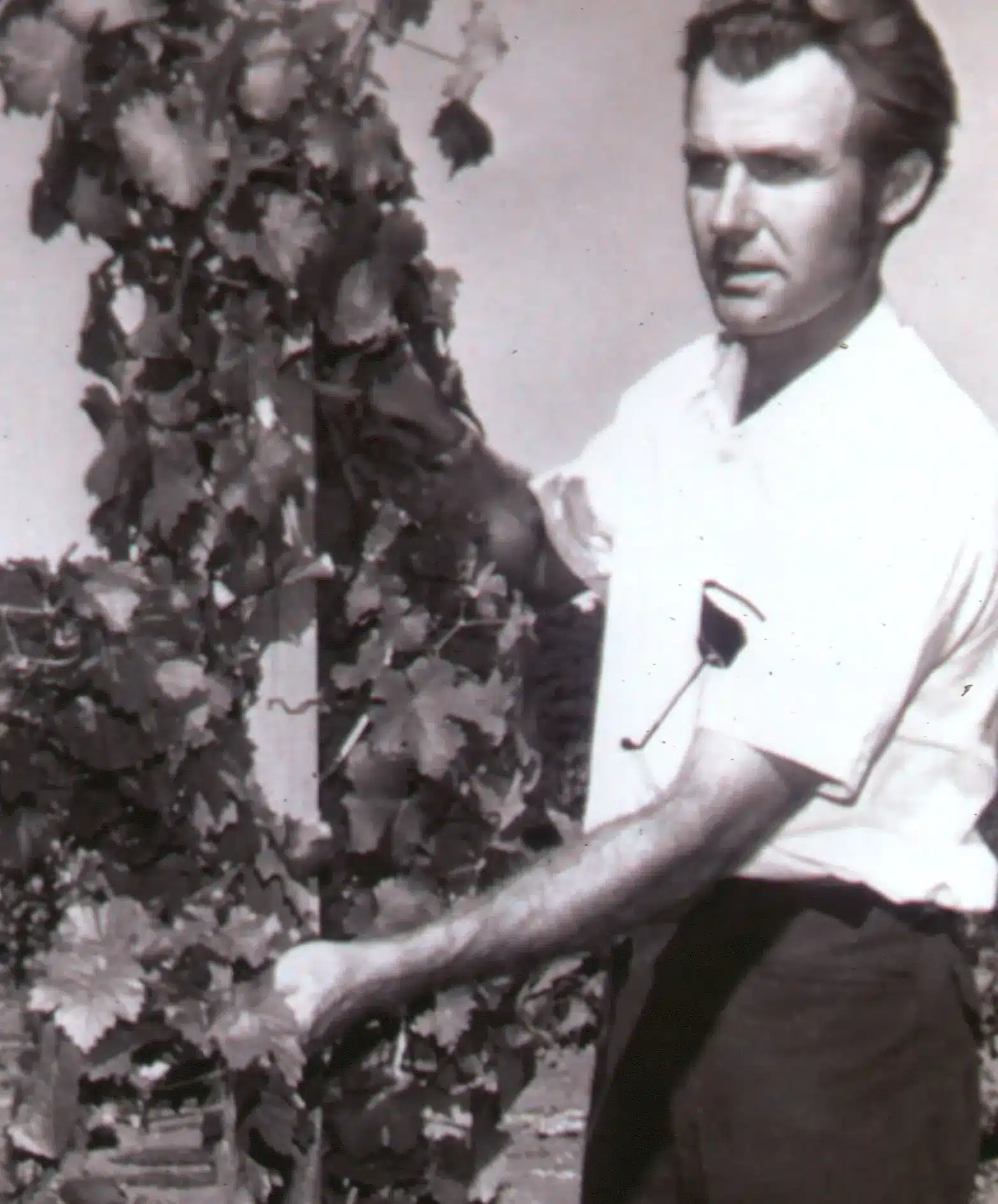 Walter in the early 1970s
Joseph Phelps and Walter Schug
Innovations at Phelps: Walter's move to Phelps Winery marked a pivotal phase in his career. He was responsible for creating the inaugural Insignia bottling, a wine that would go on to achieve significant acclaim. His efforts were rewarded with a 99-point score from renowned wine critic Robert Parker, an achievement that underscored Walter's ability to produce exceptional wines.
Pioneering Pinot Noir: Walter Schug's love for Pinot Noir was a driving force behind his decision to establish his own label. When Phelps Winery ceased production of this variety, Walter saw an opportunity to channel his passion and expertise into crafting outstanding Pinot Noir wines. This move allowed him to express his unique style and approach to winemaking.
Walter, Claudia and Axel with the first vintage of Heinemann Mountain Pinot Noir
Establishment of Schug Winery: Walter's dream of having his own estate vineyard and winery became a reality when he settled in Carneros, a region renowned for its cool climate and suitability for Pinot Noir and Chardonnay. Schug Winery was founded in 1980, marking the beginning of a new chapter in his winemaking journey.
1990 – Gertrud and Walter with winery plans before groundbreaking in the Carneros region of Sonoma
Legacy in Carneros: Walter Schug's winemaking legacy in Carneros is marked by his dedication to crafting elegant and expressive wines. His focus on Pinot Noir and Chardonnay demonstrated his commitment to showcasing the potential of these varieties in the unique terroir of the Carneros region, an AVA which he helped establish in 1983.
Walter in 2009 – 50 years after he first set foot in California
Educational Contributions: Beyond his role as a winemaker, Walter Schug was known for his willingness to share his knowledge and expertise with others. He played a role in educating both consumers and fellow winemakers about the nuances of winemaking, contributing to the overall growth and development of the industry. Schug Winery's current winemaker, Johannes Scheid, met Walter in 2009, when he was speaking to Winemaking Students at Geisenheim University.
Continuing Influence: Even after his passing in 2015, Walter Schug's influence continues to resonate in the world of winemaking. Schug Winery remains a testament to his dedication to quality and his vision for producing exceptional wines that reflect the character of the land.